The Pörner Group was commissioned by OMV with the modernization of the desulphurisation plant at the Schwechat refinery. Pörner Vienna was given the responsiblity for the basic and detail engineering, procurement of equipment parts (this also includes the new apparatus) and construction supervision and commissioning support.
The new apparatus, the centerpiece of the system, with a diameter of 5 m and a total height of about 24 m is rated for 465 ° C at 80 bar. The planning for production, transport and erection of the project at the refinery site lasted about two years. But, careful planning is worthwhile, as the installation of the apparatus took only 20 minutes. The execution of the 380-ton reactor by barge on the trolley took place with the active participation of public. An Austrian television network even reported on this event.
LINK: http://tvthek.orf.at/program/Wien-heute/70018/Wien-heute/9991954/Millimeterarbeit-fuer-Schwertransport/9991968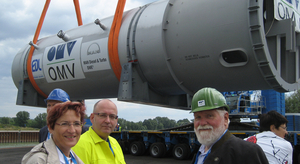 From left to right: Christina Pötzsch, EDL Senior Engineer Process Technology; Thomas Rieder, Pörner project manager; Christian Jüttner, OMV Asset Development Manager; in the background Vienna's Vice-Mayor Renate Brauner
The delivery of the equipment to the refinery over a distance of 14 km is a logistical challenge. Among other things, the traffic has to be stopped temporarily on the A4 Eastern motorway to allow the Transport of the barge. Its installation on the refinery grounds takes place in June 2015 and the integration into the refinery system is scheduled for April 2016.